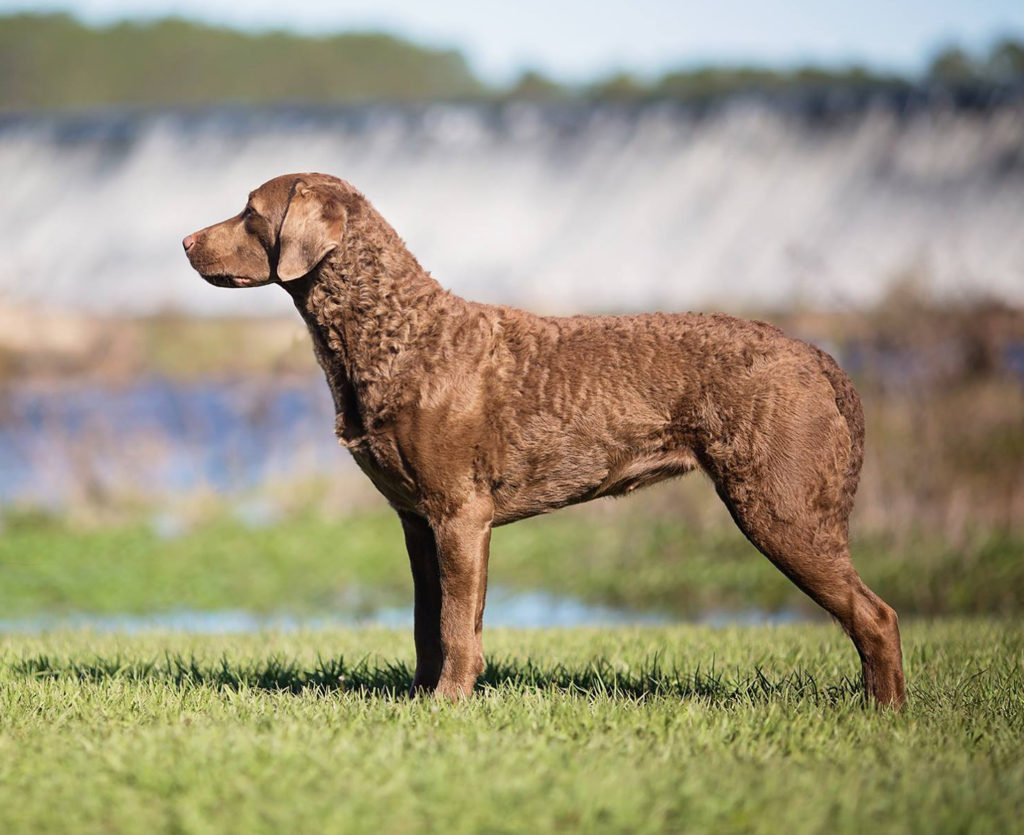 U-SHR BISOH MRBISOH GCHS CH** Laurelwood's True Bearing BN RN SH WD
(GCH CH Pond Hollow Rocky Mtn Range Rider MH   x   U-HR AKC GCH CH/Intl CH CoolWater's Roane Point CD BN RE NA NAJ RATN SH WDQ)
DOB: 02/23/2016  |  Height: 23″  |  Weight: 80 pounds |  Color: Light Brown  |  Coat: very dense
Health Clearances:  Hips – Good  |  Elbows – Elbows  |  Eyes – Normal/Clear  |  Cardiac – Normal/Clear  |  DM – Carrier  |  EIC – Clear  |  PRA – Clear  |  Long Coat – Clear  |  EDSF – Clear
True is from our 2016 Brady x Fen litter and we are very pleased with her.  She has excellent bone and substance, a strong and powerful rear, very nice front angulation and has lovely correct movement.  She is very outgoing and bold, with excellent drive in the field and has done very well in the show ring- Sporting Group winner, multiple Sporting and Owner-Handled Group placements including an OH Best In Show and multiple OH Reserve Best in Shows.  Best of all is her wonderful sweet temperament and personality, she makes me smile every day.
True will continue training for both show and performance titles.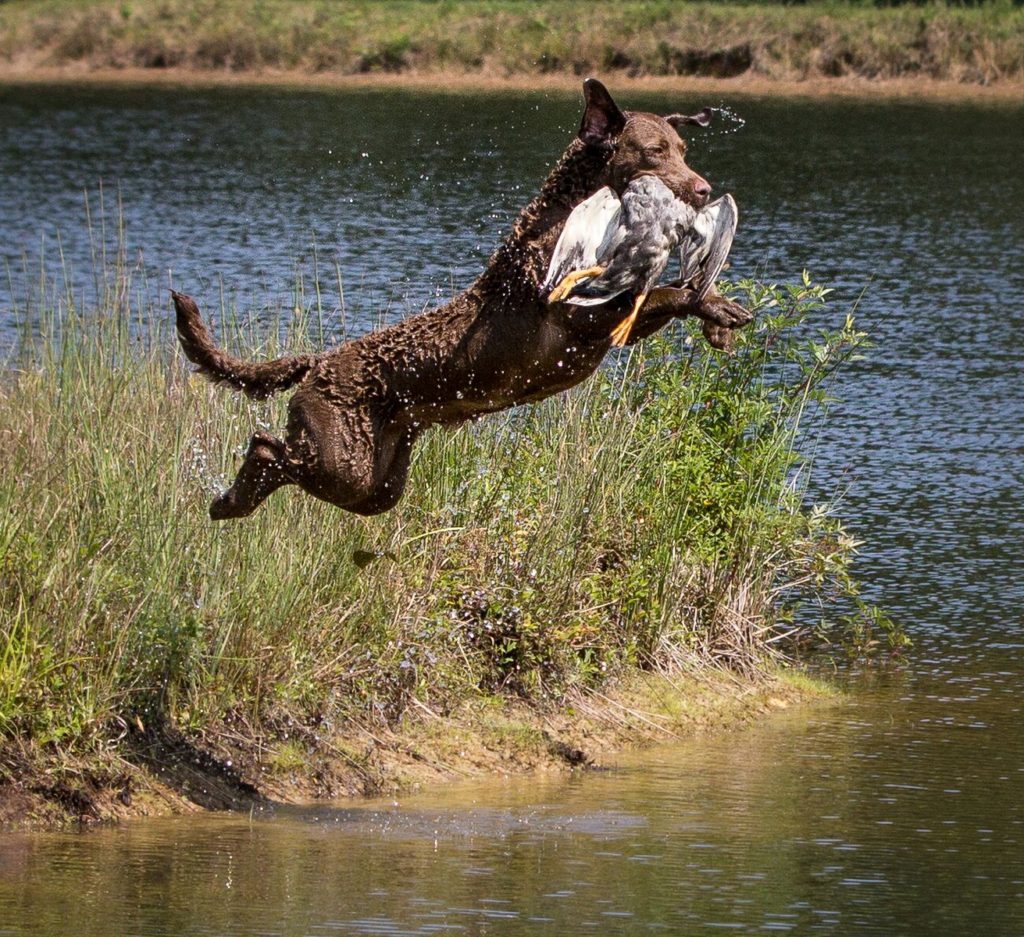 Here are a few of True's accomplishments so far:
Silver Grand Champion
Sporting Group Winner
NOHS Best in Show
Multiple NOHS Reserve Best in Shows
Multiple Sporting Group Placements
Multiple NOHS Sporting Groups Wins and Placements
Winner of the 2020 NOHS Finals
Qualified for the NOHS Finals (Top 10) in 2018, 2019, 2020 & 2021
Finished her Grand Championship in just 2 weekends of showing with 5 Major wins, multiple BOB wins and multiple OH Sporting Group placements.
Won the large and very competitive Hunting Bitch class at the 2018 Nationals.
Earned her Junior Hunter (JH) title with 4 straight passes, owner trained and handled.
First Chesapeake Bay Retriever to earn the AKC Achiever Dog Certificate.
Finished her conformation Championship easily from the Bred-By class with 3 major wins and multiple BOB/BOS wins over Specials, including a Major Win going BOS over top ranked Specials at the Royal Canin/AKC National Championship show.
Earned her Rally Novice (RN) and Beginner Novice Obedience (BN) titles with qualifying scores each time she entered.
Earned her 2nd Triple Crown Versatility Award at the 2017 National Specialty Show at eighteen months old, with placements in Conformation, Dock Diving, Obedience and Rally.
Passed 4 straight HRC Started Hunt Tests to earn her SHR title, owner trained and handled.
Earned the Triple Crown Versatility Award at the 2016 National Specialty Show at just seven months old, the youngest dog in ACC history to receive it.
Passed her ACC Working Dog Test at seven months old.
Earned her International Championship (Puppy) in one weekend, picking up a Puppy Group 1st and two Puppy Group 2nds.
.fusion-gallery-1 .fusion-gallery-image {border:0px solid #f6f6f6;}